Hearts Silicone Mat - Small size
Hearts Silicone Mat - Small size mold - this mold allows to obtain the quilted effect on the coating on the sugar paste cakes
measures
Mold type: 1 face
Subject dimensions: b cm 29 x h cm 19,3 x p cm 0,6
Mold dimensions: b cm 29,5 x h cm 20 x p cm 0,9
n° of subjects per mold: 1
Mold weight: approx 0,263 kg.
Video
How to use silicone mat with hearts texture for fondant and sugar paste.
You might also be interested in the following products: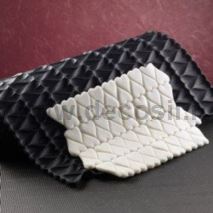 decosil3066
Product successfully added!