description
Backdrop Snowy Landscape mold
The "Snowy Landscape" is a set of 2 molds, a base and a backdrop that


make a setting designed and developed by decosil® designers for

position and interchange all the characters of the Christmas line,

offering to the customer several solutions, and giving way to each one to choose

his favorite.

decosil® is the continuous research of ideas and style, offering a practical solutions that give the opportunity to the pastry chef to present to its customers, original products, taking care of the packaging details valuing these delicious chocolate sculptures.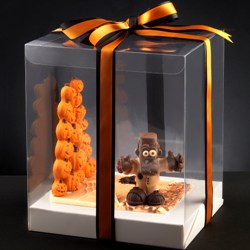 Wrapping Box: CO21X24X17
Wrapping transparent box for backdrop with inner plastic bottom
Dimensions: b cm 21 x h cm 24 x p cm 17
box with 25 pz.
measures
Type of mold: 1 part kit 2 pcs.
Dimensions of the subject BACKDROP: b cm 11,2x h cm 14,8 x p cm 2,5
Dimensions of the subject BASE: b cm 14 x h cm 13,5 x p cm 2,3
Dimensions of the subject PINE (2): b cm 4,5 X h cm 8,5 x p cm 1,5
Dimensions of the mold BACKDROP: b cm 13 x h cm 18 x p cm 2,8
Dimensions of the mold BASE+PINE: b cm 22 x h cm 15,8 x p cm 2,3
n° of subjects per mold: 1
Weight of the mold: approximately 1 kg.
You might also be interested in the following products:

decosil4044
Product successfully added!