description
Nougat Buon Natale mold
Silicone molds for the creation of chocolate and sugar Christmas ornaments
measures
Type of mold: 1 part
Dimensions of the subject: b cm 20 x h cm 5 x p cm 3
Dimensions of the mold: b cm 22,2 x h cm 7,2 x p cm 3,7
n° of subjects per mold: 1
Weight of the kit: approximately 0,270 kg.
Recipes
TORRONE DI CIOCCOLATO E NOCCIOLE CON CEREALI SOFFIATI
Ingredienti: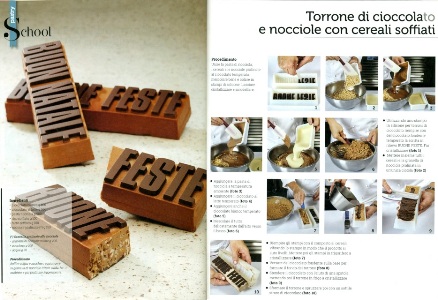 cioccolato bianco 500g
cioccolato al latte 500g
pasta nocciola 500g
riso soffiato 100g
Fìfarro soffiato 100g
nocciole pralinate (*) 150g

(*) Granella pralinata alla nocciola
granella di nocciole tritate 200g
zucchero 100g
acqua 30g
Procedimento Granella pralinata alla nocciola:
Bollire acqua e zucchero, aggiungere la granella di nocciole tritate calda, far sabbiare e poi pralinare leggermente.
Procedimento dellla preparazione del Torrone:
Unire la pasta di nocciola, i cereali e le nocciole pralinate al cioccolato temperato, mescolare bene e colare in stampi in silicone. Lasciare cristallizzare e smodellare.
Utilizzando uno stampo in silicone per torroni di cioccolato riempire con del cioccolato fondente temperato la scritta in rilievo "Buone Feste". Far cristallizzare. (foto 1)
Mettere insieme tutti i cereali e la granella di nocciola pralinata in un'unica ciotola. (foto 2)
Aggiungere la pasta di nocciola a temperatura ambiente. (foto 3)
Aggiungere il cioccolato al latte temperato e poi successivamente anche il cioccolato bianco temperato.

(foto 4-5)

Mescolare il tutto delicatamente dall'alto verso il basso. (foto 6)
Riempire gli stampi con il composto ai cereali vibrando lo stampo in modo che il prodotto si auto livelli. Mettere poi gli stampi in frigorifero a cristallizzare. (foto 7)
Versare il cioccolato fondente sulla base per formare il fondo del torrone. (foto 8)
Stendere il cioccolato con l'aaiuto di una spatola mettendo poi il torrone nuovamente in frigo a cristallizzare.(foto 9)
Sformare il torrone e spruzzare poi con un sottile stgrato di cioccolato. (foto 10)
Ricetta di Stefano Laghi
You might also be interested in the following products: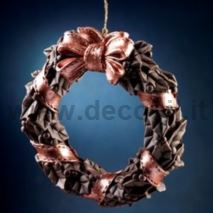 decosil4054

decosil4055
decosil4068
Product successfully added!