description
First Communion Parchment for Boys Mold
The parchment for Communion is another way to decorate cakes; simply using and pouring white chocolate you can obtain a thin parchment that you can colorate at your own taste, and than add it on the cake.
measures
Type of mold: 1 side
Dimensions of the subject: b cm 10 x h cm 15,3 x p cm 1,8
Dimensions of the mold: b cm 11,4 x h cm 16,5 x p cm 2
N° of the subjects per mold: 1
Weight of the mold: around 0,286 kg.
Ideas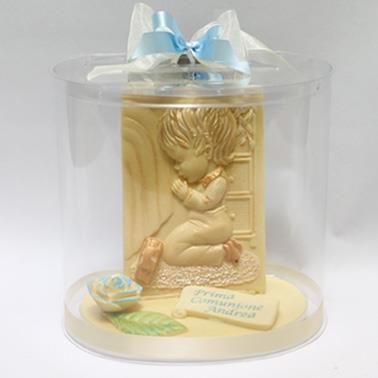 idee per bomboniere commestibili
Bomboniera Comunione bimbo,
interamente in cioccolato, personalizzabile!!!
Realizzabile anche in zucchero!!!
You might also be interested in the following products:
Product successfully added!