Chick Gino mold
Chick Gino professional silicone Molds for Easter Decorations for chocolate sugar ornaments
description
Chick Gino mold - 3D Siliocone Mold
Professional silicone molds for the creation of sugar or fondant chocolate 3D cake decorations
Chick Gino with his little house made with middle egg and portal house adorned with the roof and the fence is an alternative to the Easter gift.
measures
Type of mold: 2 sides
Dimensions of the subject: b cm 10,2 x h cm 10,8 x p cm 7,5
Dimensions of the mold: b cm 12,2 x h cm 12,2 x p cm 9
n° of subjects per mold: 1
Weight of the mold: around 0,671 kg.
Step by Step
You might also be interested in the following products:

decosil12214

decosil12212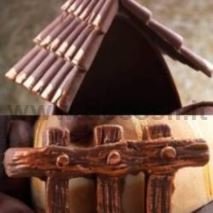 decosil12220
Product successfully added!