CONCETTO custom silicone molds for Pastry Competition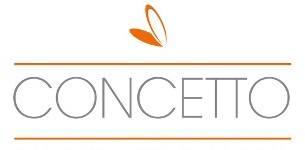 CONCETTO is a service dedicated to the professional pastry chef who want to approach the world of pastry competitions for the realization of personalized artistic pièces for sugar art and chocolate art.
CONCETTO is a package of services designed by decosil®
complete, exclusive and unique aimed particularly at pastry chefs wishing to engage in high-level pastry contests.
CONCETTO for competitions offers a consultancy that declines in these stages:
- Planning of Design: Artistic pièce / sweet at the plate / pralines, required to contest rules
- Development of design in 3D models handmade
- Realizations of the printing plant and related food contact grade silicone molds that will allow the reproduction of artistic pièce / sweet to the plate / pralines in the desired materials (chocolate - sugar - ice cream - sugar paste)
- the chance to have a close collaboration with the coach Davide Malizia, World Champion 2013, which will follow and train the candidate at any stage of preparation for the competition.
REALIZE YOUR CUSTOM SILICONE mold STARTING FROM:
IDEA: If you have an idea but you do not know how to achieve it, we offer you the possibility to realize your mold from a simple DESIGN, a PHOTOGRAPHY or a MODEL.
A DESIGN, a DRAFT, a RENDERING or just a PHOTOGRAPHY we are able to achieve the required template and get your finished mold.

To receive an estimate click on
or make an appointment with our experts by sending an email to info@decosil.it

In the application form, do not forget to provide the following information:
Insert your data

describe your project (including measures)

attach to email any pictures, sketches or other in the appropriate section:

SELECT FILES
It is possible to create customized molds whose cost depends on the shape, size and complexity of the subject (3D or 2D) and consists of five items:
PROJECT

DESIGN

MODEL

MATRIX

mold
IMPORTANT: To get the best possible service we recommend to contact us as soon as you have the availability of the competition rules to be undertaken.
Normally for: drawings, modeling and mold making the running time is approximately 10 months divided into:
design phase stage design and approval

stage of realization of the models / sculptures

stage of realization of the molds

testing of the molds on the part of the customer

any changes

delivery on time to pursue the training
decosil Srl shall in no way and under no circumstances be responsible for any infringement of industrial and intellectual property rights in connection with their goods customization requested by the Costumer.
In this respect, decosil Srl shall always be held by the Customer entirely free from any prejudical consequences.