How to color chocolate
How to color chocolate
Your chocolate subjects can be colored using:
• DIFFERENT VARIETY OF CHOCOLATE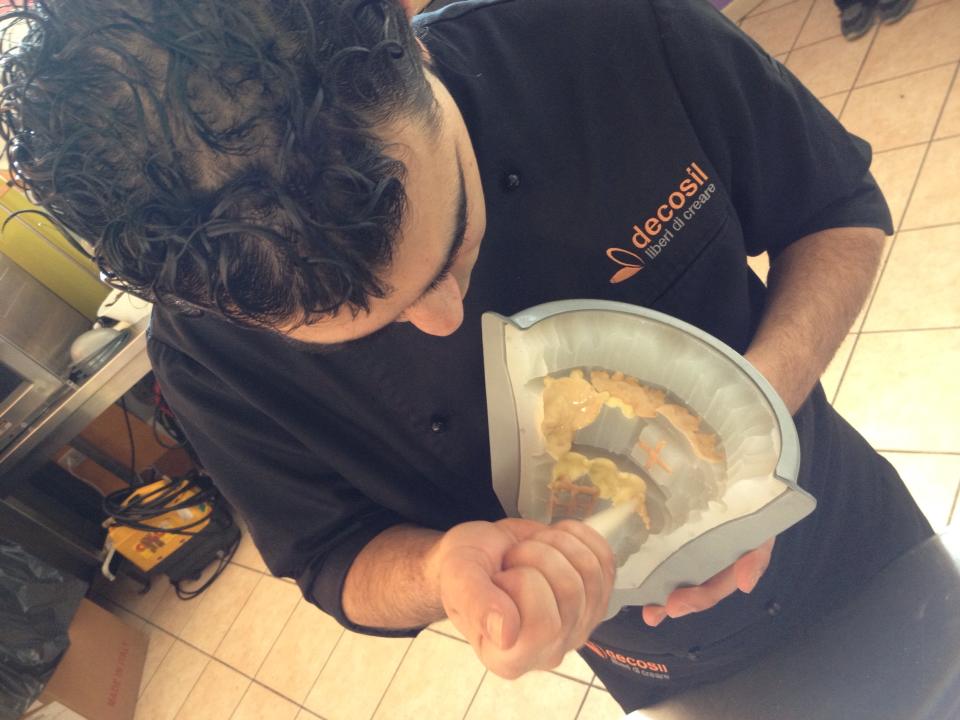 Fill with the 4 colors of chocolate (dark chocolate, milk chocolate, white chocolate and milk chocolate mixed with the white one) the different details of the mold, with a brush or a piping bag.
In the video tutorial Hot-air Balloon Egg LINEAGUSCIO® it is illustrated how to use this technique and how to get a fourth color gradation by mixing the milk chocolate with the white one:
This technique can be used in two ways to obtain, for example, a nice bright red chocolate:
by coloring the whole mass of white chocolate;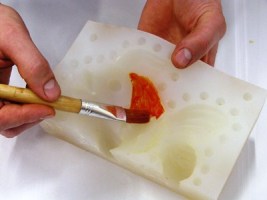 by coloring the inner part of the mould with a brush and then pouring the chocolate.
The following Step by Step shows how to practice this technique where the color is transferred from the mold to the chocolate:
Melt the orange fat-soluble cocoa butter and brush the surface of the mold corresponding to the scales of the fish ...

• MARZIPAN INSERTS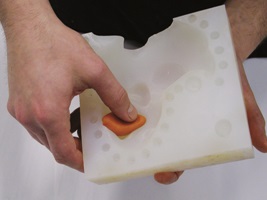 Fill the details you want with the marzipan of the desired color.
This technique is explained in the Step by Step guide below:
Insert some orange soft marzipan in correspondence with the spout...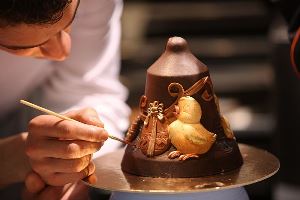 After removing the subject from the mould, paint it with a brush.

In this tutorial video you will learn how to paint chocolate:
color your chocolate subject with the brush.

To fix the color to the chocolate use this mixture:
50 parts of pure alcohol for food;

50 parts of

liquid shellac for food

;

about 10 parts of dye metal powder for food.
Method: Dissolve in pure alcohol, food dye metallic in powder and add the shellac already diluted.
• FINAL AIRBRUSH SPRAYING OF THE SUBJECTS
This technique, which gives a velvety appearance, must be understood as the final finishing of the items.
Using the airbrush, spray the tempered chocolate blended as follows: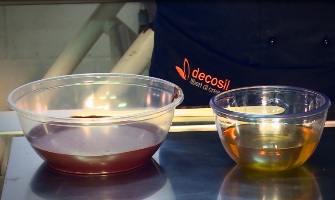 2 parts of dark chocolate;
1 part of tempered cocoa butter melted in the microwave at a temperature not higher than the temperature of the tempered white chocolate that is 28/29°C.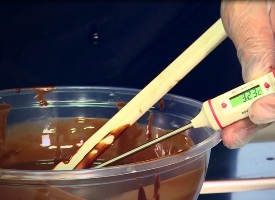 These techniques are fully explained during our demos