description
Stampo Guscio Pino Gnomo Tiby LINEAGUSCIO®

Sarà entusiasmante creare le tue decorazioni natalizie con decori che si inseguono a tutto tondo per tutta la superficie, sembrerà che il Pino sia stato scolpito a mano con altorilievi e bassorilievi, che produrranno un effetto scultoreo tridimensionale.
Un risultato straordinario che potrete ottenere con estrema facilità, seguendo gli Step by Step video e fotografici visibili sul sito.
LINEAGUSCIO® è un brevetto esclusivo decosil
measures
Tipo di stampo: kit 3 pz. a 2 facce
Dimensioni del soggetto: b cm 18 x h cm 22,4 x p cm 13,2
Dimensioni dello stampo: Diametro b cm 17 x h cm 23,5
Dimensioni del soggetto PIEDI: b cm 6,7 x h cm 4,4 x p cm 5,3
Dimensioni dello stampo PIEDI: b cm 15 x h cm 5 x p cm 6,4
n° soggetti per ogni stampo: 1
Peso dello stampo: circa 0,880 kg. TOTALE (Peso PINO kg 0,700 + Peso PIEDI kg 0,180)
Peso del soggetto vuoto realizzato in cioccolato: circa 600 g.
Per utilizzare gli stampi della LINEAGUSCIO® è necessario avere almeno 1 Kit TERMOFORMATO
Step by Step
Ideas
LO SAI CHE...
lo stampo in silicone accumula il calore che il cioccolato temperato rilascia,
quindi, durante il ciclo di produzione, per raffreddare lo stampo tra una sformatura e l'altra ti consigliamo di riporlo in abbattitore o in frigo.
Prima di riutilizzarlo assicurati che lo stampo abbia una temperatura più bassa del cioccolato.
In questo modo la sformatura dei soggetti risulterà sempre facile, il cioccolato sarà correttamente cristallizzato e i tuoi stampi resteranno puliti.
You might also be interested in the following products: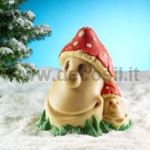 decosil12411

decosil12300
Product successfully added!