...Often bought together:

+

= 121,00 EUR
• Roses Chocolate Christmas Ball LINEAGUSCIO Mold
89,00 EUR
• LINEAGUSCIO Thermoformed Sphere Mold
32,00 EUR
measures
Type of mold: 2 parts
Dimensions of the subject: diameter cm 13
Dimensions of the mold: diameter cm 14
n° of subjects per mold: 1
Weight of the mold: approximately 0,452 kg.
Step by Step
Ideas
decosil non lascia nulla al caso, corredando le Sfere LINEAGUSCIO® di un apposito supporto per confezionarle:
Base Sfera Codice Articolo 12604
La Base è un articolo a se stante, e come tale va acquistato a parte.
Video
Recipes
Lemon Mousse Recipe
INGREDIENTS

PROCEDURE

LEMON JUICE 500 g


SUGAR 60 g

FISH GLUE 32 g

ITALIAN MERINGUE 800 g

WHIPPED CREAM 800 g

Prepare the LINEAGUSCIO® mold, code 12601 and 12600.

Heat 250 g of lemon juice and dissolve the fish glue already softened, add the sugar and then the remaining 250 gr. of lemon juice, incorporate all to the meringue and then gently add the whipped cream.

Now, with a pastry bag, carefully pour the mousse into decosil mold and let stand for at least one hour in the blast chiller.

When the mousse crystallization is completed, remove the thermoformed mold by pushing delicately the silicone locks.

Finally gently remove the silicone mold from the bottom to the top of the Bell as if you were peeling an orange.

Put back in the blast chiller to better cool the surface. Serve on a serving plate decorated at will.
You might also be interested in the following products:

decosil12600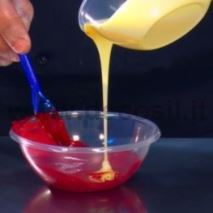 141032

decosil12604
Product successfully added!