Often bought together: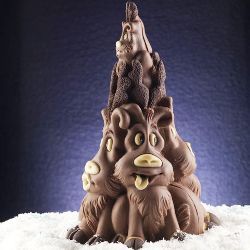 +

= 167,00 EUR
• Reindeers Family Chocolate Christmas Tree LINEAGUSCIO Mold
135,00 EUR
• LINEAGUSCIO Thermoformed Pine Mold
32,00 EUR
measures
Mold type: 2 faces
Subject dimensions: ø b 15 x h 22,8 cm
Mold dimensions: ø b 17 x h 23,5 cm
n° of subjects per mold: 1
​Mold weight: approximately 0,766 kg.
Weight of the subject made of chocolate: 450 gr.
Step by Step
Video
You might also be interested in the following products:
Product successfully added!