description
Stampo Guscio Mezza Sfera Igloo LINEAGUSCIO
LA SCULTURA DI CIOCCOLATO
Igloo da realizzare in cioccolato o pastigliaggio per ambientare i simpatici animali di cioccolato della linea decosil.
Vuoi regalarla ad amici e parenti?
Cerca la pasticceria più vicina a te dove la puoi acquistare
Se invece sei un pasticcere puoi acquistare qui lo stampo per realizzarla!
LO STAMPO PER REALIZZARE LA SCULTURA DI CIOCCOLATO
Questo stampo fa parte della LINEAGUSCIO®, presentata da decosil per il Natale.
Decorazioni tipiche che diventano eccezionali grazie alla fantasia del pasticcere.
La sfida di decosil è realizzare stampi in silicone alimentare sempre più articolati e ricercati dal punto di vista del decoro, ma semplici da utilizzare.
Guarda lo Step by Step per vedere come è semplice usare i nostri stampi!
measures
Tipo di stampo: a 1 faccia
Dimensione del soggetto: diametro cm 13 x h cm 6,5
Dimensione dello stampo: diametro cm 13,5 x h cm 7
n° soggetti per ogni stampo: 1
Peso dello stampo: circa 0,268 kg.
Per utilizzare gli stampi LINEAGUSCIO è necessario avere almeno 1 kit Termoformato
Cod. Art. 12600 Termoformato Sfera kit 2 pz.
Step by Step
Video
You might also be interested in the following products:

decosil12600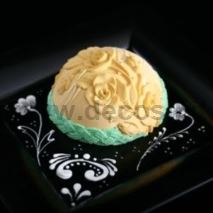 decosil12601
Product successfully added!