cod. decosil2015
diameter 5,91 inch
description
Sphere mold 15 cm Malizia Line
diameter 15 cm = 5,91 inch
The sphere mold 15cm (5.91 inch) is composed of two perfectly smooth parts.
The lower part is in black silicone that is more rigid to support the weight, and the upper part with the casting hole is in soft silicone to facilitate mold release.
This mold can be used with either chocolate or sugar, and it will not need a rigid support as it is self-supporting.
In the picture: The "Sphere of Spheres" is a isomalt sugar sphere containing smaller balls of different colors and sizes, it is created with the molds of the Linea Malizia by decosil and with a special technique developed by the World Champion of sugar Artistic 2013 Davide Malizia.
measures
Mold type: 2 faces
Subject dimensions: diameter cm 15 = 5,91 inch
Mold dimensions: diameter cm 19 x h cm 17
Mold weight: 2,146 kg.
Video
Recipes
Sfera di Sfere
Preparare una serie di sfere di zucchero di diversi colori e diametri e lucidarle eliminando le bolle d'aria passando una fiamma
Colare nella parte inferiore dello stampo Sfera dello zucchero isomalto trasparente fino a riempire un terzo dello stampo nero
Far raffreddare fino ad ottenere un effetto cremoso
Inserire le sfere fredde in ordine sparso rispetto a colore e diametro fino ad ottenere una piramide e unirle tra loro con la fiamma
Con una ventola raffreddare il tutto e successivamente e chiudere con la parte superiore dello stampo
Sigillare con la pellicola trasparente lo stampo per evitare fuoriuscite e riempire versando zucchero isomalto trasparente a 140°C.
Raffreddare e sformare la Sfera di Sfere
Passare una fiamma per eliminare le bolle d'aria e ottenere una superficie perfettamente lucida.
You might also be interested in the following products: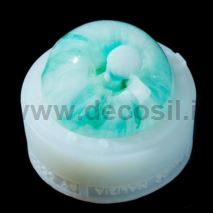 decosil2014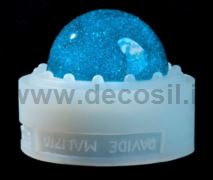 decosil2013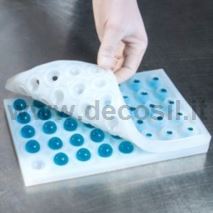 decosil2026
Product successfully added!