cod. decosil2015
diameter 5,91 inch
measures
Mold type: 2 faces
Subject dimensions: diameter cm 15 = 5,91 inch
Mold dimensions: diameter cm 19 x h cm 17
Mold weight: 2,146 kg.
Video
Recipes
Sfera di Sfere
Preparare una serie di sfere di zucchero di diversi colori e diametri e lucidarle eliminando le bolle d'aria passando una fiamma
Colare nella parte inferiore dello stampo Sfera dello zucchero isomalto trasparente fino a riempire un terzo dello stampo nero
Far raffreddare fino ad ottenere un effetto cremoso
Inserire le sfere fredde in ordine sparso rispetto a colore e diametro fino ad ottenere una piramide e unirle tra loro con la fiamma
Con una ventola raffreddare il tutto e successivamente e chiudere con la parte superiore dello stampo
Sigillare con la pellicola trasparente lo stampo per evitare fuoriuscite e riempire versando zucchero isomalto trasparente a 140°C.
Raffreddare e sformare la Sfera di Sfere
Passare una fiamma per eliminare le bolle d'aria e ottenere una superficie perfettamente lucida.
You might also be interested in the following products: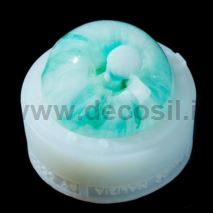 decosil2014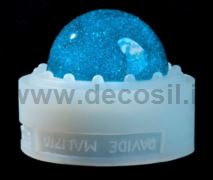 decosil2013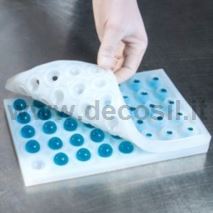 decosil2026
Product successfully added!