cod. decosil14011
multiple mold 5 different objects: elephant - hippo - monkey - lion - snake
description
Savannah decoStick molds
Molds for chocolate lollipops
decoStick molds to make baby sticks
decoStick® for chocolate-praline sticks.
Snack of chocolate with nuts and chocolate creams simply decorated or covered with chocolate sprinkles or crispy.
Multiple mold to 5 fingerprints to create chocolate on a stick in animal shape:
elephant - hippo - monkey - lion - snake
The innovative decoStick molds for chocolate allow to obtain quickly and effortlessly with chocolates on a stick amaizing and irresistible decoration for young and old.
measures
Mold Type: multiple mixed 1 face
Object dimensions: MAX b cm 6,5 x h cm 7 x p cm 2
Mold dimensions: b cm 38,5 x h cm 11 x p cm 2,4
n° of objects per mold: 5 mixed
Mold weight: approximately 0,721 kg.
Step by Step
Ideas
From an idea of Gabriele Bozio for decosil comes a collection of molds dedicated to the creation of subjects or geometric forms supported by sticks for snacks or desserts.
decoStick allows you to quickly create original finger-food and elegant appetizers, ideal for a buffet service.
Can be used with fluid products: chocolate, sugar, mousse, Bavarian, lollies, jellies or pastes such as ice cream, marzipan, steak tartare, fish or vegetarian.
Video
You might also be interested in the following products:
decosil14012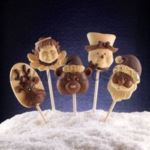 decosil14014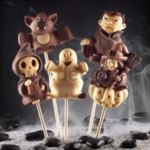 decosil14013
Product successfully added!