cod. decosil14002
multiple mold 10 subjects
description
decoStick Cube
multiple mold 10 subjects
The hot season is over and what is better than a drink to fight the cold weather!
Thank decoStick your selection of infusions gets a new look, impress your client to serve him with his favorite hot beverage a special seasonings that will feature making it unique.
Little flavored chocolate cubes to make special chocolate in a cup, coffee, teas or just cups of milk; proposed at the bar or packaged and sold together with preparations for the hot chocolate, simple highly effective elegant.
Choose the format of decoStick mold you prefer among the four available:
Cuboid - Cylinder - Half Cylinder - Cube.
measures
Type of mold: multiple 1 part
Dimensions of the object: b cm 2 x h cm 2 x p cm 2
Dimensions of the mold: b cm 39,5 x h cm 6 x p cm 2,7
n° of objects per mold: 10
Weight of the mold: approximately 0,545 kg.
Step by Step
Ideas
From an idea of Gabriele Bozio for decosil comes a collection of molds dedicated to the creation of subjects or geometric forms supported by sticks for snacks or desserts.
decoStick allows you to quickly create original finger-food and elegant appetizers, ideal for a buffet service.
Can be used with fluid products: chocolate, sugar, mousse, Bavarian, lollies, jellies or pastes such as ice cream, marzipan, steak tartare, fish or vegetarian.
Video
Recipes
Miniaromi per cioccolata in tazza e altre bevande calde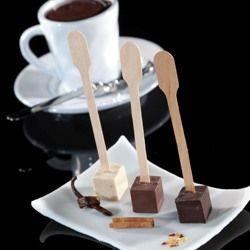 INGREDIENTI
PROCEDIMENTO

cioccolato (bianco, al latte o fondente)

500g

Per aromatizzare il burro di cacao con spezie o erbe aromatiche effettuare un'infusione: fondere il burro di cacao, unire la sostanza aromatizzante, con un mixer ad immersione miscelare bene, coprire con la pellicola per alimenti e lasciare in infusione a temperatura ambiente per 12-24 ore.
Scaldare nuovamente il burro di cacao e filtrarlo; unire il burro di cacao aromatizzato al cioccolato precristallizzato e utilizzare direttamente.
Se si aromatizza il cioccolato con oli essenziali inserirli direttamente senza fare l'infusione.
Posizionare il fermo dello stampo decoStick e inserire i supporti nelle feritoie laterali facendoli scivolare per almeno un terzo all'interno della forma, colare direttamente il cioccolato nelle forme, vibrare lo stampo come di consueto per eliminare eventuali bolle d'aria e far cristallizzare completamente a una temperatura di 15-18 °C (oppure 5 minuti in frigorifero a 2-4 °C e poi a temperatura ambiente).
Questi aromi concentrati possono essere serviti con la cioccolata in tazza o altre bevande calde dove verrà fuso all'interno semplicemente mescolando con il supporto in legno direttamente nella tazza.

burro di cacao aromatizzato

50g
You might also be interested in the following products:
Product successfully added!