measures
Type of mold: 2 parts
Dimensions of the subject: b cm 9 x h cm 9,6 x p cm 4,7
Dimensions of the mold: b cm 12,5 x h cm 11,4 x p cm 6
n° of subjects per mold: 1
Weight of the mold: approximately 0,580 kg.
Recipes
Rocking horse in fondant
Fill with the fondant the two separate halves of the Rocking horse mold and then put them together.
Put in the blast chiller to solidify it.
Demold the Rocking horse in fondant and complete closing possible little holes and joints.
You might also be interested in the following products:

decosil3051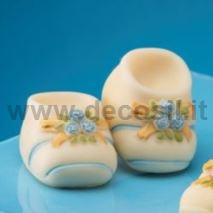 decosil6004

decosil3055
Product successfully added!