Raspberry Mousse Recipe

Moulds for Modern and Classic cakes
Raspberry Mousse Recipe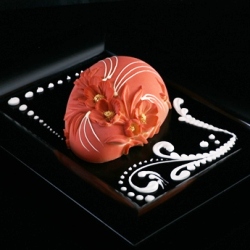 INGREDIENTS

PROCEDURE

RASPBERRY PUREE


FISH GLUE

ITALIAN MERINGUE

WHIPPED CREAM

500 g


15 g

250 g

500 g

Prepare the LINEAGUSCIO® moulds, code 12505 and 12500.

Heat 250 g of puree and melt the already softened fish glue, add the remaining 250 g of pulp.

Blend the mixture to the meringue and lighten the blend with the whipped cream.

Now, pour the mousse into the decosil mould and let stand for at least one hour in the blast chiller.

Put in blast chiller to better cool the surface .

Serve on a plate decorated as desired.
Step by Step