Stampo Scarpine neonato
Stampo Scarpine neonato Stampo per realizzare scarpine per neonato, anche in pasta di zucchero. Per una grande idea, si possono realizzare anche come bomboniere commestibili. bomboniere Battesimo commestibili
description
Stampo Scarpine neonato
Stampo per realizzare scarpine per neonato in cioccolato o in pasta di zucchero.
Le scarpine da neonato possono essere regalate ad una mamma in dolce attesa e sono di buon auspicio.
Una grande idea realizzare le scarpette come bomboniere commestibili per la Festa del Battesimo.
measures
Tipo di stampo: a 1 faccia
Dimensioni del soggetto: b cm 4,5 x h cm 3 x p cm 2,5
Dimensioni dello stampo: b cm 8,8 x h cm 5,8 x p cm 3,3
n° soggetti per ogni stampo: 2
Peso dello stampo: circa 0,125 kg.
Baby shoes moulds
Model: One side mould
Subject size: b cm 4,5 x h cm 3 x p cm 2,5
Mould size: b cm 8,8 x h cm 5,8 x p cm 3,3Subject per mould: 1
Mould weight: 0,125 kg.
Ideas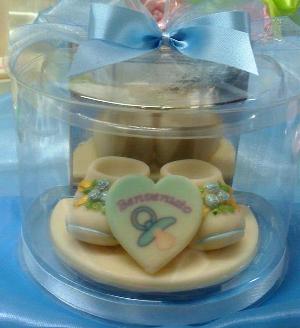 idee per bomboniere da Battesimo commestibili
Per la nascita scarpette in cioccolato bianco decorato in azzurro o rosa, cuoricino personalizzabile e confezione regalo con fiocco in raso!
You might also be interested in the following products:
Product successfully added!