description
"Alvi" Pumpkin mold
Halloween molds cake, halloween cake decorations, halloween cakes.
Trick or treat!
For HALLOWEEN party, decosil® characters like ghosts, bats, skeletons, pumpkins and dark magic witches come alive on the night of October 31!
measures
Mold type: 1 part
Subject Dimensions: diameter cm 5 x p cm 5
Mold dimensions: diameter 7,5 x p cm 6
n° of subjects per mold: 1
Mold weight: approximately 0,189 kg.
Step by Step
Ideas
decosil è ricerca continua di idee e di stile, offrendo un servizio di soluzioni pratiche che danno la possibilità al pasticcere di presentare alla propria clientela, prodotti originali, curando nei dettagli anche il packaging studiato su misura per confezionare valorizzando queste deliziose sculture in cioccolato.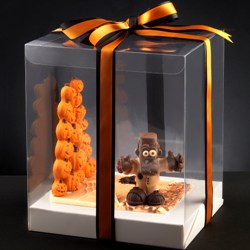 Cofanetto per confezionare: CO21X24X17
Confanetto trasparente con fondino interno bianco plastificato
Dimensioni: b cm 21 x h cm 24 x p cm 17
scatola da 25 pz.
You might also be interested in the following products:
Product successfully added!