I GIOCOLOSI by Stefano Laghi
I GIOCOLOSI
by Stefano Laghi
The new line of molds "I GIOCOLOSI" has been developed and signed by Pastry Chef Stefano Laghi.
"I GIOCOLOSI" are:
GIOCOLOSO Teddy Bear - GIOCOLOSO Bunny - GIOCOLOSO Puppy
The name "GIOCOLOSO" is made up of two Italian words: "gioco" which means "a game, fun" and "goloso" which means "delicious, gourmand".
Once you choose the HEAD of GIOCOLOSO with your favorite face you can choose a matching BODY KIT.
Every kit contains molds suitable for making interchangeable body parts and could be assembled in various combinations.
Each KIT contains the following body parts:
the TORSO, the ARMS, the SHOES and the BASE.
The molds for the TORSO and the SHOES are different in each kit and allow you to choose the GIOCOLOSO's cloths.
The ARMS are interchangeable and the BASE is used as a support for a GIOCOLOSO character in order to fix it in different positions (standing, sitting, lying etc.).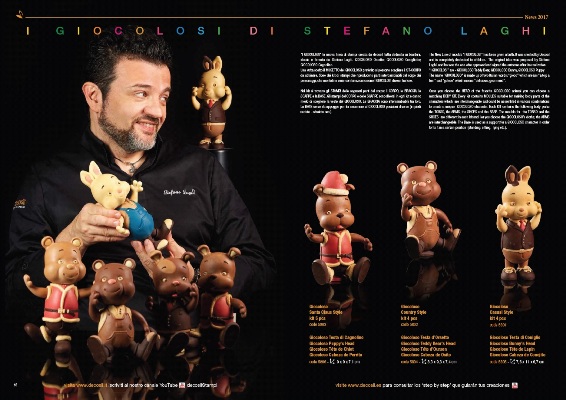 What about Easter?
What better opportunity for such a unique present!
The GIOCOLOSI will be a perfect alternative to the traditional Easter egg.
Their egg shaped body will make them suitable for this occasion to the children's joy..