description
Swan Malizia Mold
The silicone mat allows you to create showpieces and centerpiece for buffet in sugar and chocolate.
The elements obtained are sinuous curves and shapes with different leit motiv that enable creation of always different amazing structures.
measures
Mold type: 1 face
Subject dimensiond: b cm 59 x h cm 39 x p cm 1,5
Mold dimensions: 2,200 kg.
Subjects weight kit 12 pcs.: 0,360 kg.
Mold total weight kit: approximately 2,560 kg.
Video
You might also be interested in the following products: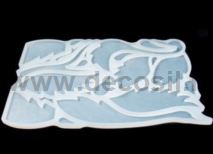 decosil2019
Product successfully added!