description
Medal mold - kit 2 pcs.
The Medal-shaped silicone mold for chocolate and sugar molding, decorating in the most appropriate manner, can be used to decorate and to dedicate cupcakes and cakes to champions!
You can made a chocolate medal to place as a topper and decorate the cake.
The kit consists of:
a mold to make the medal decorated with laurel
a multiple mold to create the numbers 1, 2, 3 and a trophy to be applied in the center of the medal.
To attach the symbols just use a drop of chocolate.
measures
Type of mold: 1 side kit 2 pcs.
Dimensions of the object MEDAL: diameter cm 13 x h cm 1
Dimensions of the mold MEDAL: diameter cm 15,5 x h cm 1,3
Dimensions of the object COMPONENTS (NUMBERS/CUP): b cm 5 x h cm 5 x p cm 2
Dimensions of the mod COMPONENTS (NUMBERS/CUP): b cm 14 x h cm 14 x p cm 7
n° of objects per mold MEDAL: 1
n° of objects per mold COMPONENTS: 4
Weight of the mold MEDAL: about 0,185 kg.
Weight of the mold COMPONENTS: about 0,146 kg.
Ideas
I numeri di questo kit possono diventare golose decorazioni da appoggiare sulle torte di compleanno, e ricorda che ne puoi realizzare un bel numero da impiegare quando ti servono.
You might also be interested in the following products: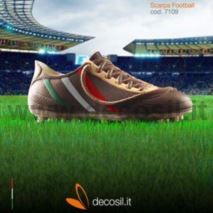 decosil7109

decosil17100
Product successfully added!