description
Leaf "C" mold for sugar or chocolate
cm 17 X cm 10,5
Mold for leaves to use with pulled sugar, sugar paste, chocolate paste and modeling chocolate.
measures
Type of mold: 2 sides
Dimensions of the mold: b cm 17 x h cm 10,5 x p cm 3,5
n° of subjects per mold: 1
Weight of mold: around 0,573 kg.
Video
You might also be interested in the following products: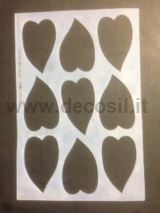 decosil2042
Product successfully added!