Often bought together:

+



= 193,00 EUR
• Duckling Noce Chocolate Mold
85,00 EUR
• House Facade mold
39,00 EUR
• Apple tree Chocolate Mold
36,00 EUR
• Roof and Fence mold
33,00 EUR
measures
Type of mold: 2 parts
Dimensions of the subject: b cm 9 x h cm 12,5 x p cm 8,5
Dimensions of the mold: b cm 12,5 x h cm 14 x p cm 9,4
n° of subjects per mold: 1
Weight of the mold: approximately 0,785 kg.
Empty weight of the subject realized in chocolate: about 170 gr.
Video
You might also be interested in the following products:

decosil12214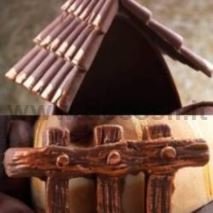 decosil12220

decosil12212
Product successfully added!