What is decoStick® molds
decoStick® is a food contact silicone molds for finger food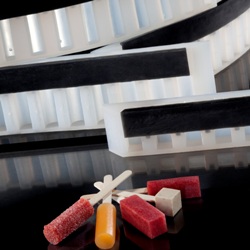 An idea by Gabriele Bozio Dalmastro for

decosil® becomes a collection of moulds
dedicated to the creation of subjects
or geometric shapes supported by
sticks for snacks,
walking desserts and plated desserts.
decoStick® moulds can be used with fluid products: chocolate, sugar,
mousse, bavarian mousse, popsicles, fruit jellies or
pasty such as ice cream, marzipan, steak tartare, fish tartare
or vegetable tartare.
decoStick® is a food silicone mould that
consists of two parts: a "base" in soft and translucent silicone
and a "lock" of closing removable in harder black silicone
that gives a greater stability to the mould, it blocks and supports
solidly the stick and allows you to fill the
mould with pasty products, without the stick
moves; simultaneously avoids the leakage of fluid materials
and allows to extract from the mould the subjects easily without deforming.
In the lower part of the decoStick® mould are provided
partial cracks that help a faster cooling
of the compounds in the blast chiller.
Fields of application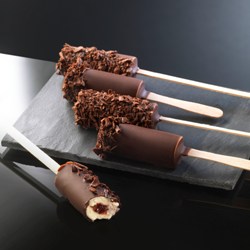 PASTRY
Mini cream cakes, mousse, sponge cake
and many other compounds in version snacks on a stick.
Fresh fruit jellies with or without a crunchy topping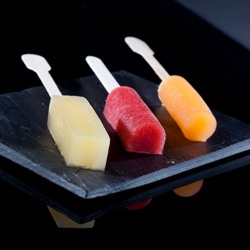 ICE CREAM
Snack of ice cream, simple or
coated with crunchy shell. Mini popsicles with fresh fruit
Snack Chocolate and dried fruit
Snack Cremino stuffed with various creams
simple or covered with chocolate and decorated.
Sugar or honey Crunch with nuts or seeds.
Jellies fruit glazed with chocolate or coated with crystalline sugar.
Snacks uncooked or cooked on a stick ideal for buffet service.
Nice preparations on a stick for children's menu suggestions .
Design elements for cocktails and appetizers served on the plate
Fresh fruits or other ingredients mini-popsicles
for innovative cocktails.
Benefits
TECHNOLOGY
: materials used for these moulds combine flexibility and stability, it guarantees the best performance in the different phases of processing.
EASY TO USE
: the interlocking
immediately clamp on the base this makes its use
intuitive and quick for any operator.
VERSATILE
: you can use different types of sticks,
both in wood and other materials, from simple skewers or
popsicle sticks also sticks with particular shapes.
The moulds can also be used without the
support to obtain geometric shapes to be used
as a complement or decoration.
FULLY INTEGRATED
: moulds are designed
to be conveniently managed on traditional
trays that are used in production without having to buy
appropriate supports, on baking sheets Euronorm 60x40
You can put up to 4 moulds, while on the trays
EXCLUSIVE DESIGN
: we propose unique forms,
in fact, only with the technology and silicones used
for these moulds you can easily demould
shapes with undercuts.
Cod. Art. 14001 ddecoStick® cuboid multiple mold 10 subjects
Cod. Art. 14002 decoStick® Cube multiple mold 10 subjects
Cod. Art. 14003 decoStick® Cylinder multiple mold 10 subjects
Cod. Art. 14004 decoStick® Half Cylinder multiple mold 10 subjects