description
Big Oval Frame mold
It could be realized using white chocolate or transparent isomalt or dripped opaque sugar.
Used as decorations for artistic pieces, Communions or Confirmations in addiciton to a Pergamene.
measures
Type of mold: 1 side
Dimensions of the subject: b cm 20,5 x h cm 27 x p cm 2
Dimensions of the mold: b cm 22.5 xh cm 29.5 xp cm 2.5
n° of subjects per mold: 1
Weight of mold: about 0,601 kg.
You might also be interested in the following products: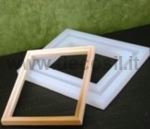 decosil2001
decosil2002

decosil2004
Product successfully added!