cod. decosil14002
multiple mold 10 subjects
description
decoStick Cube
multiple mold 10 subjects
Tea Time Chocolate Silicone Mold
decoStick for jellies.
Jellies Fruit to be proposed as a natural alternative to fresh fruit as snacks for children.
Jellies flavored for infusions
When the warm weather ends what is better than an invigorating drink to fight the first cold days!
Thank decoStick your selection of infusions gets a new look, amaze your customer to serve him with his favorite hot beverage a special seasonings that will feature making it unique.
Choose the size of the molds decoStick favorite among the four available:
Cuboid - Cylinder - Half Cylinder - Cube.
measures
Type of mold: multiple 1 part
Dimensions of the object: b cm 2 x h cm 2 x p cm 2
Dimensions of the mold: b cm 39,5 x h cm 6 x p cm 2,7
n° of objects per mold: 10
Weight of the mold: approximately 0,545 kg.
Step by Step
Ideas
From an idea of Gabriele Bozio for decosil comes a collection of molds dedicated to the creation of subjects or geometric forms supported by sticks for snacks or desserts.
decoStick allows you to quickly create original finger-food and elegant appetizers, ideal for a buffet service.
Can be used with fluid products: chocolate, sugar, mousse, Bavarian, lollies, jellies or pastes such as ice cream, marzipan, steak tartare, fish or vegetarian.
Video
Recipes
Gelatine aromatizzanti per infusi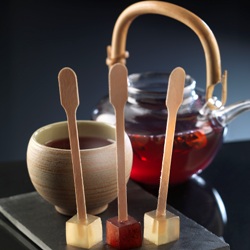 INGREDIENTI
PROCEDIMENTO

acqua

1000g

In una casseruola scaldare metà dell'acqua, o del liquido sostitutivo, con gli zuccheri; raggiunti i 70 °C allontanare dalla fonte di calore e unire la gelatina precedentemente reidratata. Se nel liquido si mettono delle sostanze in
infusione, lasciare infondere per il tempo necessario, fi ltrare, reintegrare eventualmente il liquido perso durante l'infusione scaldare nuovamente e unire la gelatina. Incorporare il restante liquido e raffreddare la miscela a 15 °C. Nel frattempo preparare gli stampi decoStick cubo, collocare la base su una griglia o teglia forata, posizionare il fermo sulla base, inserire poi i supporti nelle feritoie
laterali facendoli scivolare fino circa a metà della lunghezza della forma. Colare nelle forme la miscela lasciandola defl uire in maniera naturale fi no al completo riempimento; procedere quindi con l'abbattimento in negativo a -40 °C fi no al completo indurimento del prodotto.
Quando ben abbattuto, togliere il fermo dalla base ed estrarre completamente le forme. Gli insaporitori possono essere conservati in congelatore a -18/-20 °C per lungo tempo, per il consumo invece devono essere mantenuti in frigorifero, dove possono rimanere per qualche giorno.

Aromatizzazioni

L'acqua della ricetta può essere sostituita, totalmente o parzialmente, con altri liquidi quali vini, bevande alcoliche, succhi di frutta, infusi molto concentrati, latte o altro. Oli essenziali o estratti naturali concentrati possono essere aggiunti in quantità minime alla ricetta senza alcuna variazione Petali di fiori eduli, foglie di erbe aromatiche, coriandoli d'oro alimentare o altre guarnizioni potranno essere inserite nella gelatina che poi le libererà nell'infuso quando si scioglie creando un effetto aromatico oltre che estetico.

zucchero semolato

150g

sciroppo di glucosio

100g

gelatina alimentare
(190 °bloom)

40g
You might also be interested in the following products:
Product successfully added!