decoStick Cylinder
decoStick Cylinder multiple mould 10 subjects decoStick silicone molds - with the decoStick silicone molds you can prepare raw snacks on a stick or stickburger ideal for buffet service. From sweet to savory, with the moulds decoStick preparations you can create savory meat, fish or vegetable, chocolate or ice cream served both raw and cooked.
cod. decosil14003
multiple mold 10 subjects
description
decoStick Cylinder
multiple mold 10 subjects
decoStick silicone molds to tartarestick with marinated meat or fish.
From sweet to savory, with the decoStick molds it is possible to realize preparations salted with meat and fish to be served raw as a tartare and cooked like a burger or with vegetables or cheese.
decoStick silicone molds are specifically designed with the innovative shapes made so elegant.
Ideal for a buffet to eat standing.
The customer will appreciate to be able to taste the products easily without having to touch it with their hands.
Choose the size of your favorite decoStick molds among the four available:
Cuboid - Cylinder - Half Cylinder - Cube.
measures
Type of mold: multiple 1 side
Dimensions of object: b cm 3,87 x h cm 9,5 x p cm 2,8
Dimensions of the mold: b 38,5 cm x h cm 9,5 x p cm 2,5
n° of objects per mold: 10
Weight of the mold: around 0,768 kg
Step by Step
Ideas
From an idea of Gabriele Bozio for decosil comes a collection of molds dedicated to the creation of subjects or geometric forms supported by sticks for snacks or desserts.
decoStick allows you to quickly create original finger-food and elegant appetizers, ideal for a buffet service.
Can be used with fluid products: chocolate, sugar, mousse, Bavarian, lollies, jellies or pastes such as ice cream, marzipan, steak tartare, fish or vegetarian.
Video
Recipes
StickBURGER di pollo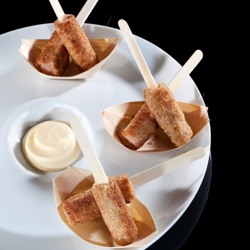 INGREDIENTI
PROCEDIMENTO

carne di pollo tritata

500g

In una ciotola condire la carne trita con l'olio extravergine, miscelare bene poi unire anche tutti gli altri ingredienti; aggiustare di gusto con sale e pepe e inserire il composto in un sac à poche.
Sistemare il fermo sulla base degli stampi decoStick, riempire completamente le forme con il composto facendolo aderire bene alle pareti, sistemare i supporti in legno facendoli scivolare all'interno della forma per almeno un terzo della lunghezza e con la spatola a gomito stendere il composto asportando poi l'eccesso.
Proteggere con un foglio Ideabrill® oppure di carta da forno o di acetato per evitare che l'aria dell'abbattitore possa rovinare la superficie del prodotto e abbattere alla temperatura di –40 °C portando il prodotto al cuore a –18 °C.
Sformare, passare gli stecchi nell'uovo sbattuto (o solamente nell'albume) e impanare a piacere con panature a base di pane bianco, grissini, farine di riso o mais. Friggere in friggitrice o cuocere in forno a seconda delle esigenze; per una migliore cottura in forno si consiglia di vaporizzare dell'olio sulla superficie della panatura per renderla più croccante e dorata.

olio extravergine d'oliva

10g

senape tipo Dijon

10g

succo di limone

10g

scorza di limone

2g

zenzero fresco grattugiato

4g

sale e pepe bianco

q.b.

Ideabrill
® è l'imballaggio eco-compatibile salvafreschezza brevettato da Esseoquattro Spa.
I test effettuati dall'Università di Camerino dimostrano che aumenta la conservazione degli alimenti e svolge un'azione isolante e protettiva nei confronti di luce ed aria.
Utilizzando questo tipo di incarto l'alimento, sia in fase di preparazione con lo stampo
decoStick
che durante la conservazione prima di essere consumato, manterrà inalterate le proprie caratteristiche, come sapore, odore, colore.
Anche congelato l'alimento si staccherà facilmente dall'incarto senza lasciare residui. Se vuoi saperne di più:
www.ideabrill.it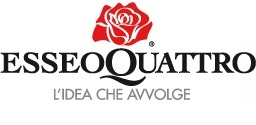 You might also be interested in the following products:
Product successfully added!