decoStick chicken StickBURGER
Back to previous page
How to use decosil molds
StickBURGER di pollo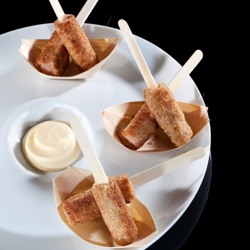 INGREDIENTS

METHOD

minced chicken meat
extra virgin olive oil
Dijon mustard type
lemon juice
Lemon peel
grated fresh ginger
salt and white pepper

500g 10g 10g 10g 2g 4g

In a bowl season the ground beef with olive oil, mix well then also add all other ingredients; season to taste with salt and pepper and place the mixture in a pastry bag.
Place the catch on the base of decoStick molds, fill forms with the mixture making it adhere well to the walls, fix wooden supports by sliding them within the form for at least a third of the length and the sharp spatula spread the mixture by removing then the excess.
Protect with a Ideabrill® sheet of paper or parchment paper or acetate to prevent the chiller air can ruin the surface of the product and break down at a temperature of -40 ° C bringing the product to the heart at -18 ° C.
Turn out, move the sticks in beaten egg (or only nell'albume) and bread to taste with breading made with white bread, bread sticks, rice flour or corn. Fry in deep fryer or bake in the oven as needed; for better baking is recommended to spray oil on the surface of breading to make it crisp and golden.

Ideabrill® è l'imballaggio eco-compatibile salvafreschezza brevettato da Esseoquattro Spa.
I test effettuati dall'Università di Camerino dimostrano che aumenta la conservazione degli alimenti e svolge un'azione isolante e protettiva nei confronti di luce ed aria.
Utilizzando questo tipo di incarto l'alimento, sia in fase di preparazione con lo stampo decoStick che durante la conservazione prima di essere consumato, manterrà inalterate le proprie caratteristiche, come sapore, odore, colore.
Anche congelato l'alimento si staccherà facilmente dall'incarto senza lasciare residui. Se vuoi saperne di più: www.ideabrill.it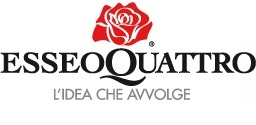 Back to previous page
How to use decosil molds