Molds for finger food desserts, finger food chocolate
decoStick® Finger Food Ice Cream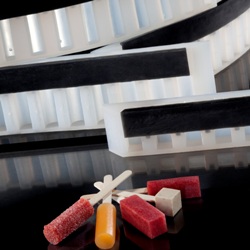 Line of food silicone molds dedicated to the creation of subjects or geometric shapes supported by sticks to get a walking snack or dessert.
It can be used with liquid products like chocolate, sugar, mousse, Bavarian, popsicles, fruit jellies such as ice cream or paste, marzipan, tartare meat, fish, cheese or vegetarian.
The food silicone mold decoStick® is composed by two parts: a base of a soft translucent silicone and black silicone stiffer stripe of closure, which gives greater stability to the mold, it locks solidly and it supports the stick. It allows you to fill the mold with pasty products without the stick moves, preventing leakage of liquid and it allows you to extract the subject from the mold easily without deforming. In the lower part of the mold decoStick® there are partial cracks that allow a faster cooling of the compounds in the blast chiller.
Utilization sectors

PASTRY
Mini cake with creams, mousse, Victoria sponge
and many other ingredients in snacks on stick version.
Fresh fruit jellies with or without a crunchy chocolate topping.

ICE CREAM
Ice cream snack or semifreddo, simple or
crispy coated. Mini popsicle with fresh fruit or with syrup.

CHOCOLATE/CONFECTIONERY
Chocolate and dried fruit snacks.
Simple or coated cremino snacks with
chocolate or decorated with crunchy,
sugar or honey with nuts or seeds. Fruit jellies
fruit coated with chocolate or sugar .

RESTAURANT/CATERING /CAFÉ
Uncooked or cooked snacks on a stick
ideal for buffet service.
Nice preparations on a stick
for children menu.
Design complements for aperitifs and
appetizers served impiattati.
Design complements for modern desserts.
Mini popsicle of fresh fruit or other ingredients
for innovative cocktails.