"INTRECCIO" Biscuits chocolate mold
"INTRECCIO" Biscuits chocolate mold - Braid Biscuits mold - Mold BRAID Biscuits
cod. decosil13020
multiple mold 15 subjects
measures
Mold type: multiple 1 face
Subject dimensions: b cm 5,8 x p cm 5 x h cm 1,5
Mold dimensions: b cm 29,5 x p cm 19,5 x h cm 1,7
n° of subjects per mold: 15
Mold weight: approximately 0,775 kg.
Recipes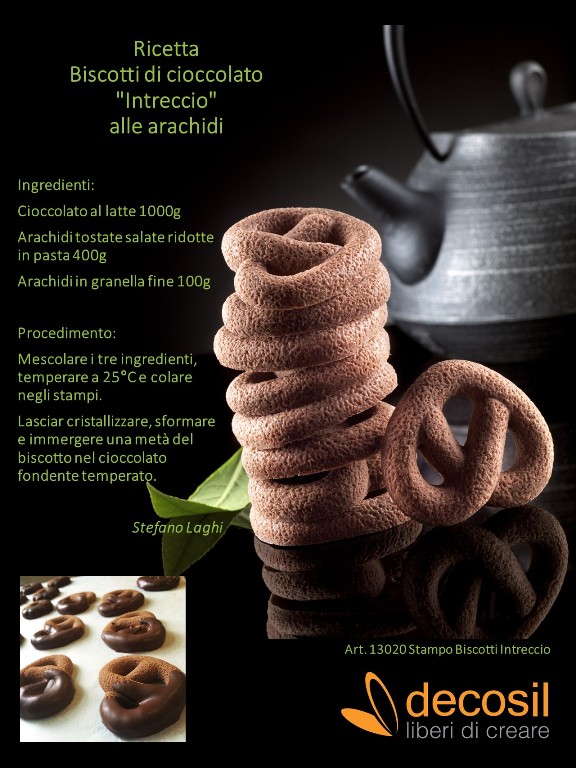 Ricetta
Biscotti di cioccolato "Intreccio" alle arachidi
Ingredienti:
Cioccolato al latte 1000g
Arachidi tostate salate ridotte in pasta 400g
Arachidi in granella fine 100g
Procedimento:
Mescolare i tre ingredienti, temperare a 25°C e colare negli stampi.
Lasciar cristallizzare, sformare e immergere una metà del biscotto nel cioccolato fondente temperato.
Il tocco in più: Potete caratterizzare ulteriormente i biscotti rendendoli bigusto, intingendoli per metà nel cioccolato fondente che smorzerà la dolcezza del cremino, aumenterà il croccante e proteggerà il cremino facilitandone il confezionamento.
You might also be interested in the following products:
Product successfully added!