Nougat Buone Feste mold
Nougat silicone mould "Buone Feste" - Nougat-shaped silicone mould to creating sweet Christmas decorations.
measures
Type of mold: 1 part
Dimensions of the object: b cm 20 x h cm 5 x p cm 3
Dimensions of the mold: b cm 22,2 x h cm 7,2 x p cm 3,7
n° of objects per mold: 1
Weight of the kit: approximately 0,270 kg.
Recipes
Chocolate and hazelnut nougat with swelled cereals
Ingredients: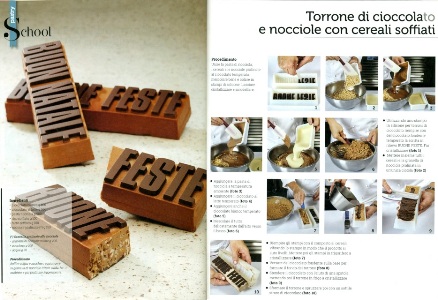 White chocolate 500 g.
Milk chocolate 500 g.
Hazelnut paste 500 g.
Puffed rice 100 g.
Puffed spelt 100 g.
Praline hazelnut (*)150 g.
(*) Praline hazelnut grain
Minced hazelnut grain 200 g.
Sugar 100 g.
Water 30 g.
Method for praline hazelnut grain:
Boil water and sugar, add the hot minced hazelnut grain and slightly cover with praline.
Method for the nougat preparation
1.Combine the hazelnut paste, the cereals and the tempered chocolate praline hazelnut, mix well and pour slowly into silicone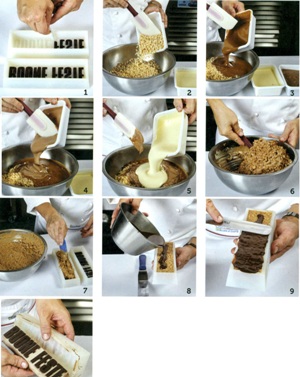 moulds. Let it crystallize and demold.
2.Use a silicone mould for chocolate nougat, fill with tempered dark chocolate the writing "Buone Feste". Let it crystallize (photo 1).
3.Combine the cereals and the praline hazelnut grain in a single bowl (photo 2).
4.Add the hazelnut paste at room temperature (photo 3).
5.Add the tempered milk chocolate, then also the tempered white chocolate (photo 4-5).
6.Mix gently everything from the top down (photo 6).
7.Fill the molds with the cereal mixture vibrating the mold so that the product can auto-level. Then, put the molds into the refrigerator to crystallize (photo 7).
8.Pour the dark chocolate on the base to create the bottom of the nougat (photo 8).
9.Stretch the chocolate with the help of a spatula, then put again the nougat into the refrigerator to crystallize (photo 9).
10.Demold the nougat and spray a thin layer of chocolate (photo 10).
Recipe by Stefano Laghi.
You might also be interested in the following products:
Product successfully added!