Quilted Handbag chocolate mold
Small Quilted Handbag silicone mold, Handbag mold, handbag chocolate mold, 3d chocolate purse mold
...Often bought together: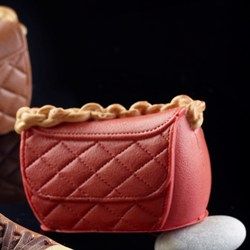 +

= 65,00 EUR
• Quilted Handbag chocolate mold
49,00 EUR
• METALLIC POWDER PEARL GOLD LUSTRE AF 25 g.
16,00 EUR
description
Small Quilted Handbag "Torino" silicone mold
Silicone forms for handbag - Silicone mold for chocolate to create a small Quilted handbag with chain.
3D Professional chocolate purses molds Made in Italy.
measures
Mold type: 2 faces
Object dimensions: b cm 7,4 x h cm 4,3 x p cm 3,3
Mold dimensions: b cm 10,1 x h cm 5,9 x p cm 5,3
n° of objects per mold: 1
Mold weight: approx 0,244 kg.
Quilted Handbag weight made in chocolate: about 85 g. = 2.99829 oz.
Video
You might also be interested in the following products:
Product successfully added!