...Often bought together: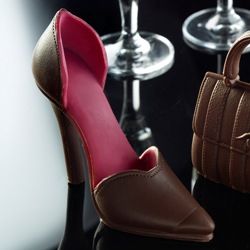 +

= 220,00 EUR
• Stiletto Shoe Milano mold
125,00 EUR
• Handbag Milano mold
95,00 EUR
description
Stiletto Shoe "Milano" mold
The new trend in compositions for wedding cakes is to create edible topper in chocolate and sugar.
decosil proposes the 3D silicone mold Stiletto Shoe "Milano", funny and stylish at same time, to create unconventional gifts.
measures
Mold type: 4 parts
Object dimensions: b cm 13 x h cm 11 x p cm 5,3
Mold dimensions: b cm 14,8 x h cm 12,8 x p cm 7,8
n° of objects per mold: 1
Weight mold: approx 0,610 kg.
Chocolate shoe weight: approx 130 g. = 4.58562 oz.
Video
You might also be interested in the following products:
Product successfully added!