cod. decosil14505
Molds for ice-cream parlours
measures
Mold type: 1 faces
Subject dimensions: diameter cm 16 x h cm 7,6
Mold dimensions: diameter cm 18 x h cm 8
N° of subjects per mold: 1
Mold weight: approximately 0,760 kg.
Video
Recipes
Strawberry and Lemon ice cream cake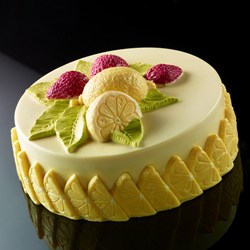 INGREDIENTS for 2 cakes
METHOD

Strawberry ice cream

1000g

With the chocolate coating melted at 35-38 ° C brush the mold, forming a thin layer and to stabilize in the blast chiller at -40 ° C for a few minutes.
In very cold mold to form the first layer of lemon ice cream, put on crumbled meringue and rippling with lemon curd.
To stabilize in the freezer for a few minutes then complete with the second layer of

strawberry

ice cream.
Smooth well and on the basis place the biscuit pistachio meringue disc.
Place molds on a grid and move in the blast chiller at -40 ° C to stabilize the product.
Only when completely frozen unmold and finish as desired with chocolate decorations, shiny glazes or spraying with velvet effect.

Lemon ice-cream




(With 30% white base)

1000g

Lemon Curd

200g

Crumbly Meringue

100g

Meringue

Biscuit Pistachio (2 discs)

250g

Finishing

couverture chocolate (for brushing the mold)
You might also be interested in the following products:
Product successfully added!