decoStick Meat Tartare
How to use decosil moulds decoStick with salty mixture with pastry bag
How to use decosil moulds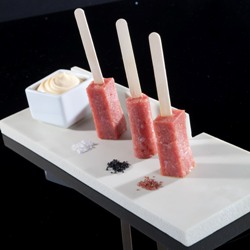 Meat Tartare Stick
INGREDIENTS

PROCESS

beef minced meat at the moment

sweet and sour minced ginger

500g 20g 5g 2g 5g

In a bowl, flavour the minced meat with olive oil, mix well, then combine also the others ingredients; season to taste and insert the mixture in a pastry bag.

Set the lock on decoStick moulds base, completely fill the moulds with the mixture, making well adhere to walls, set the wooden supports make them slide into the mould at least for 1/3 of the length, and with the spatula spread the mixture, removing the excess.

Protect with Ideabrill® paper or baking paper to prevent that the blast chiller air can ruin the product surface, and put into blast chiller, partially or completely deep freezing depending on needs.

Demould, bring to room-temperature, serve and garnish as wish.

With the same procedure, changing mixture, it is possible to create any type of burger or meat croquettes, fish or vegetarian, fried or parched, always with stick for a tasteful buffet.

The packaging Ideabrill® is eco-friendly and Freshness-keeper patented by Esseoquattro Spa.
The tests carried out by the University of Camerino demonstrate that the preservation of foods increases and it has an insulating and protective action against light and air.
Using this type of food wrapping, both in the preparation phase with the decoStick® mould, both during storage before being consumed, it will keep unchanged its characteristics, such as taste, odor, color.
Even frozen, food will come off easily from the wrap without leaving any residue. If you want to know more: www.ideabrill.it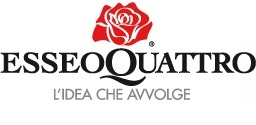 How to use decosil moulds